Inspiring Creativity: Year 9 Students Trophies Inspired by Bonnie Hislop
Engaging teenagers has always been a wild ride for educators and parents, but let's face it, things have totally changed these days. With all the tech gadgets, social media craze, and the ever-evolving interests of today's teens, we're in a whole new ballgame. If we want to connect with these digital natives and keep them engaged, we've got to switch up our strategies and get on their wavelength.
It's a common misconception among young people that artists are either old masters from centuries past or deceased legends. However, it's time to set the record straight and remind everyone that artists are very much alive and thriving in the present day. Thanks to the power of social media, we now have unprecedented access to contemporary artists who are actively practicing their craft and sharing their work online. The ability to engage with these artists, ask questions, and gain insights into their creative processes is nothing short of amazing. It's a thrilling opportunity for young art enthusiasts to connect with living artists, learn from their experiences, and be inspired by their vibrant and evolving artistry. So let's celebrate the fact that artists are not just confined to history books but are here with us, creating and shaping the artistic landscape of today.
Recently, my Year 9 students embarked on an exciting project that allowed them to explore their artistic talents while drawing inspiration from the thought-provoking works of Australian artist Bonnie Hislop. Through the use of a cardboard armature and plaster modroc, the year nines created trophies that showcased the theme, "Trophies for the Mediocre".
Bonnie Hislop, an esteemed Australian artist known for her unconventional approach to art, has gained recognition for her thought-provoking and visually captivating sculptures. Her series, "Trophies for the Mediocre," challenged traditional notions of success and celebrated the beauty in ordinary accomplishments. By focusing on the everyday aspects of life that often go unnoticed, Hislop's work invites viewers to reflect on the value of effort and resilience in their personal journeys.
Inspired by Bonnie Hislop's captivating artworks, my Year 9 students were tasked with creating their own unique trophies using a cardboard armature and plaster modroc. The project aimed to nurture their creativity, encourage critical thinking, and provide a platform for self-expression. By emulating Hislop's intention to celebrate the mundane, students were encouraged to think beyond traditional trophy designs and explore new perspectives.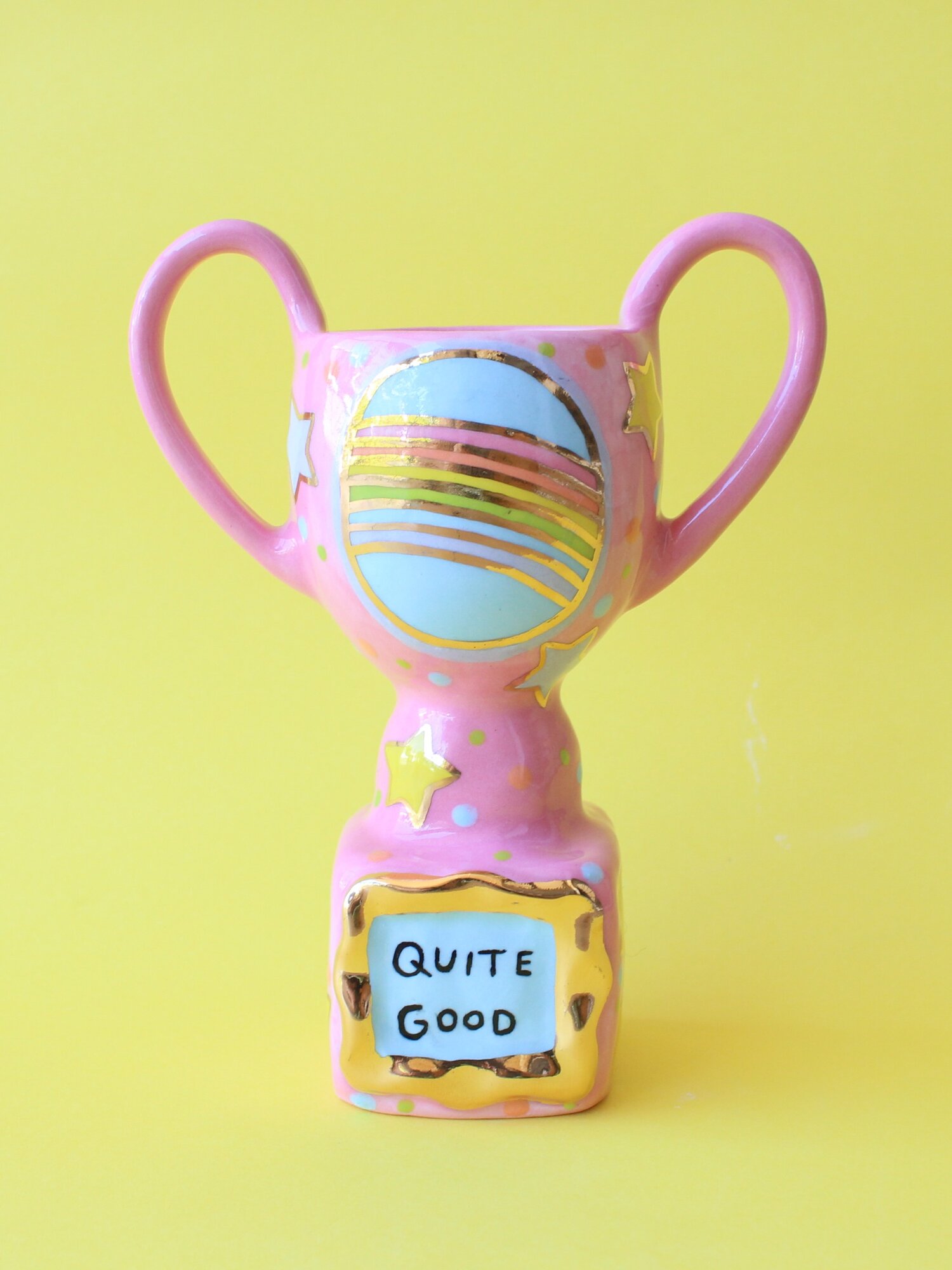 To begin, students brainstormed ideas, considering personal achievements or moments of significance that deserved recognition. They sketched their designs, considering form, composition, and symbolism. The use of cardboard armatures allowed students to experiment with structure, enabling them to bring their designs to life in three-dimensional form.
Once the basic structure was established, students applied plaster modroc to the cardboard armatures. Unlike Bonnie's work, which is ceramic, the modroc, a versatile material, provided a smooth surface and allowed for intricate details to be sculpted. The students relished the tactile experience of molding the plaster, refining their designs and adding personalized touches.
The impact of this project extended beyond the classroom walls. Students developed a deeper understanding of contemporary art and gained insight into the power of artistic expression. By engaging with Bonnie Hislop's work, they were encouraged to question societal notions of success and to appreciate the value of personal growth and everyday achievements.