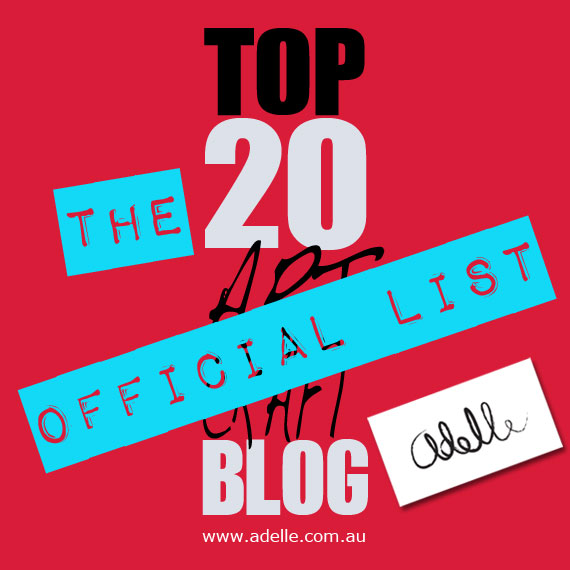 It's over ladies and gentlemen! With almost 500 voters, the TOP 20 ART CRAFT BLOG list is officially complete! What a fantastically inspiring list!
# 2 GLASS AND SABLE
# 3 KATE AND OLI
# 4 HELLO MR FOX
# 5 CITY OF DIONNE
# 6 WHERE THE LOVELY THINGS ARE
# 7 OH JOY
# 8 ONE PRETTY THING
# 10 ANYTHING INDIE
# 11 A FANCIFUL TWIST
# 12 DOUBLE TAKES
# 13 GO 2 GIRL DESIGNS
# 14 I AM CLAUDIA
# 15 COZY LITTLE CAVE
# 16 ARTDECADENCE
# 17 BONJOUR PIERRE BY KELLIE HUIE
# 18 TORTA GIALLA
# 19 ALL OVER PRINT
# 20 GALIT BARAK – JEWELRY DESIGNER
A HUGE CONGRATULATIONS to THE HANDMADE GIFT GUIDE on making it to number 1! A big congrats must also go to all the other amazing blogs on the top 20 list! Keep up the inspiring work everyone.
Another CONGRATULATIONS to SARAH for voting and winning the $20 voucher to my online jewelry store!
A special thanks also to all the blog fans who voted! It was fun wasn't it? I'm a little sad it's all over actually. But never fear! Within the next few days I'll be launching the very exciting CRAFT THE WORLD CHALLENGE. All the details soon, so get excited! (that sounded very 90s I know, but it is all very exciting)
Have a great Friday everyone.