As a child, I loved salt dough. So when this book was cancelled from my school library and brought down to the art department, all those happy salt dough childhood memories came flooding back! But why, I wonder, was this book cancelled?? Is it not 'cool' anymore? For those of you who aren't aware of this magnificent sculpture building medium, this post is for you.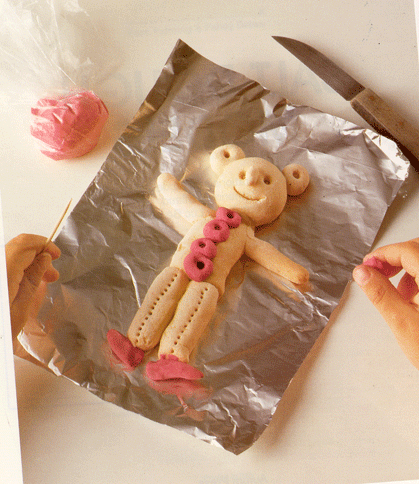 Salt dough is basically mixing flour, salt and water to give you a malleable material to shape and bake into all kinds of long lasting, three-dimensional objects.
RECIPE
1.    Use 1 part salt to 2 parts plain flour and some water
2.    Mix the salt with a little hot water enough to dampen it
3.    Mix in the flour, and then add small amounts of  hot water.
SOME TIPS
If you want a smooth, soft dough, use good quality table salt. Don't use sea salt where the crystals will be visible.
Be careful not to add too much water. Add water little by little. Aim for a dough that is firm and does not collapse and crumble when you shape it.
Watercolour and gouache paints, inks, food dyes and even instant coffee can be used to colour the dough. A final coat of varnish will give them a gorgeous shine and protect them forever.
Work quickly, as the dough tends to dry out pretty quickly.
Use lots of little pieces to build your sculpture, as opposed to modelling one big piece as you would with clay.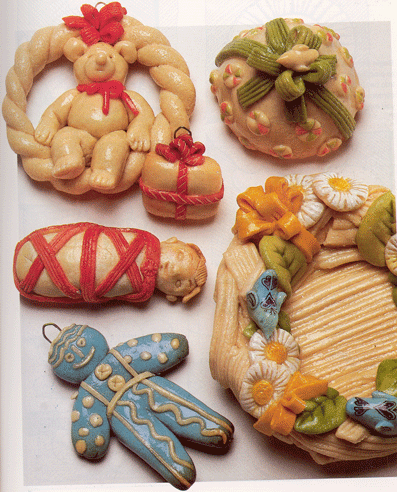 HANGERS
Paper clips are ideal. Open them out, cut them in two and insert in the dough before baking or air-drying.
BAKING OR DRYING?
Baking
Baking items will improve the strength of your sculptures. All the sculptures featured here were baked on a sheet of aluminium foil, at a temperature of 150 degrees Celcius/300 d .F. The time needed for cooking depends on the size and number of items in the oven.
Before you paint or varnish your sculptures, make sure the dough is completely dry. If the dough is even the slightest bit damp, the varnish or paint will not adhere.
Drying
Air drying takes a long time, so if you decide to leave the sculptures to air dry, make sure the pieces are not too thick. Remember that air-dried salt dough is more fragile than baked dough. Place sculptures on baking paper to dry, not foil.
The advantage of air- drying a dough sculpture is that, unlike a baked piece, any pieces that have been joined on to the basic shape are less likely to become detached as the dough dries, provided you have joined them properly. Don't forget that when air drying, the dough will shrink a little, so you may want to exaggerate each feature slightly.
So whether it's a special gift for a friend, a table decoration, Christmas tree decorations, salt and flour could be your answer! The ingredients are readily available, the method is simple and the technique is easily learned.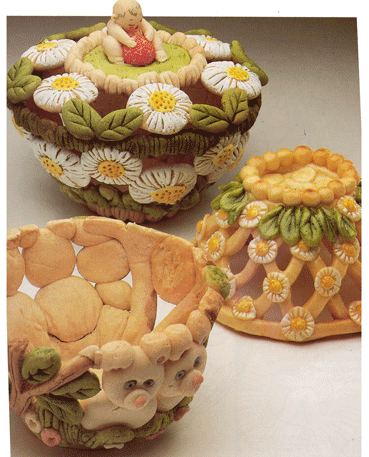 courtesy of Salt Dough Models, By Catherine Baillaud, Aurum Press, 1995.