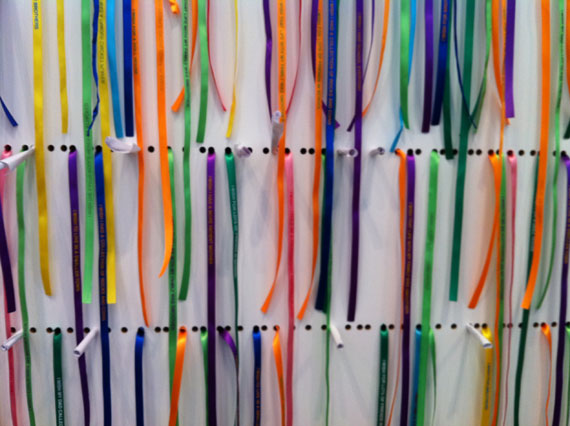 Last day of 2010! What to do, what to do.. It's 6.10pm and we still have no plans for how we will spend this evening. That's just like us.
Anyhoo.. here's an exhibit we saw at the Gallery of Modern Art in Queensland and I think it's quite fitting of the New Year celebrations everyone (maybe not us at this rate!!) is about to begin.
Running along a wall close to the entrance of the GoMA, is Rivane Neuenschwander's I wish your wish. The entire length of the wall is jam packed full of thin ribbons, each with a wish printed onto it.
Each person viewing the exhibit is encouraged to take a wish and tie it to their wrist, where according to Brazilian tradition, your wish will come true when the ribbon comes undone of it's own accord.
In exchange for the wish you've taken, you then write your own wish on a piece of paper, roll it up and stick it into the wall. These wishes will then be printed on future ribbons and become a part of exhibitions down the track.
Happy New Year my friends… may all your 2011 wishes come true (if you reallllly want them to).