I don't normally feature stuff for boys, but here's something the boys might like.
We've all seen it; The Made in China t-shirt, hanging on a wooden coat hanger, with a little embellishment selling for $60. In one particular case, it was a pocket.

As usual, I said, "I could make that". And I did. It took about 20 minutes. I first measured an existing pocket on a shirt and created a pattern on a piece of paper.

Leave a 1cm seam allowance and cut out your piece of fabric.

Fold the seam over your pattern and iron flat. You might need to trim a bit off the top seam. Stitch the top seam first before attaching to your t-shirt.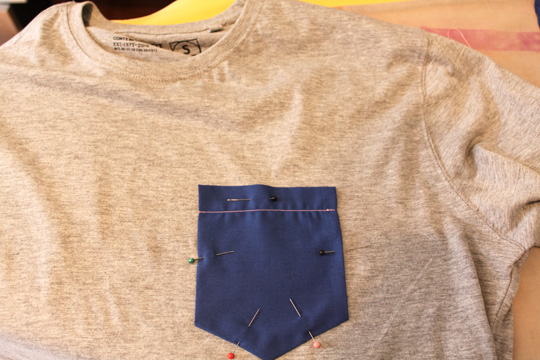 Pin the pocket in place on the t-shirt. It's best to get the person to wear the t-shirt and pin it in the correct place.
Stitch around the pocket and you're done. I used a contrasting pink cotton stitch, but you could match it if you like.

Voila! $5 boring t-shirt + 20 mins = A not-so-boring t-shirt.